We had a great time entertaining a high energy crowd at the New Year's Eve party at Holiday Inn Itasca! Even with such a diverse group we were able to accommodate everyone's music request. In the beginning of the party, people usually request the typical line dances, like "Cupid Shuffle", Casper or Electric Slide. It helped to have a request list on the table for guests to write in. I rotated different decades, current top 40, as well as different genre of music. This worked quite well and we kept everyone happy. Since this was a family event, we had games for the kids as well. Timing is of the essence when you are doing the kids games. There should be plenty of dancing in between and even an occasional slow dance.
My two sons (with the white hats) helped me out as well. In the beginning of the party, they did a full costumed Michael Jackson performance. Here they are entertaining the children, giving dance instructions, later that evening. We played a dance off game, where all the kids (and even adults) would follow their MJ moves. This was the favorite game of the evening. The proud parents were taking pictures and video. We gave out 3 prizes , and I made animal balloons for consolation prizes, so that none of the kids would feel left out.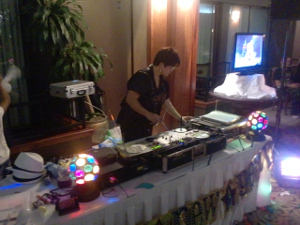 Of course, being the DJ on New Years Eve means I'm usually the only one working. But, I have a lot of fun and really enjoy interacting with the crowd. The Balloon Drop was funny and exciting at the same time, as it was all caught on my video (I would call it multi-tasking galore). As I announced the last 2 songs, the crowd was having such a good time they requested management to extend the music another half hour. Another year and another mission accomplished.